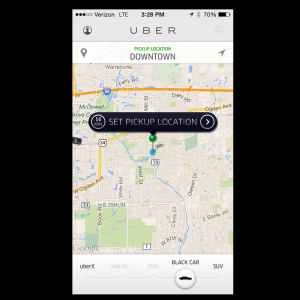 In my book, Brand Rituals™: How Successful Brands Bond with Customers for Life, I talk about a four-stage approach for brands to follow in order to become a ritual for their core customers. I give quite a few examples of brands that have become rituals for me over the years and I'm almost ready to add another to the list: Uber.
I live in Chicago. The weather can be quite unpredictable – that's the nice way to say it. When there is a big rainstorm or snowstorm, taxis are virtually impossible to hail and if you do manage to hail one, chances are that part or all of you gets soaked from being out in the street, battling with your fellow cab-seekers. Enter Uber, an absolutely brilliant idea… I use their app to "hail" a cab. I put in my location or drop a pin on the map, a driver responds to my request, the app tells me how long it will be until the driver arrives and I can see exactly where the driver is and watch their progress as they drive to my location. When the ride is over, I don't have to do a thing. Uber automatically charges my credit card on file and includes the tip I have pre-determined. The entire process is incredibly convenient and shockingly seamless.
Uber started out with only black car service in San Francisco and has quickly grown by adding in black SUVs, taxis and now independent drivers through a service called Uber X. While not all services are available in all markets, Uber has expanded to over 100 cities globally – and this is just in the last 4 years. They've managed to solve a huge problem for many urbanites while constantly innovating by adding new services. And while they've had their share of legal battles and protests in various cities, they seem to be prevailing and getting lots of attention along the way.
Many customers of Uber, myself included, have become quite passionate about the brand. Shane Atchison, POSSIBLE's global CEO, also recently wrote an article about Uber and stated that if Uber is not available in a vacation destination city he is considering, the choice of holiday location becomes much harder to make. I completely understand his sentiment.
Uber has for me, and for many, nearly reached Brand Ritual™ status. The only part missing is stage four – creating the bond. While Uber is very close to creating this bond, one of their last challenges is consistency. Most of the time, the actual in vehicle experience is good. Sometimes it's even great but often it could be better. Clearly they are at the mercy of the drivers they employ and sometimes the availability, attitude and quality aren't up to snuff. Given their incredibly rapid growth (valuation of $18.2 billion), it has to be an operational nightmare to keep up with driver background checks and customer rating evaluations, but I hope and recommend that they solve these issues soon. The app is slick. Growth and expansion are exciting. Huge valuations are sexy. But customer satisfaction and creating a strong bond is the key to the Holy Grail – becoming a Brand Ritual™.