Over the last week, I've heard from many of you. Some calls with congratulations on the Wygant & Co. acquisition and others with surprise and confusion about the transition of our Qualitative Fieldwork Practice to the Schlesinger Group. These calls and notes made me realize that while these changes have been deliberate, they may not appear to be from the outside, so I thought it would be useful to put all the pieces together in one place. Once I do, I think you'll be as energized as we are about my vision for the company.
Let me start with a bit of background…
Almost five years ago, I decided to dedicate the next decade of my life to build a company that would be the best resource my clients can find to help them solve their thorniest business and marketing problems. As I thought about what that would look like, I knew I needed to find an organization that integrated very specific capabilities: c-level business acumen, sound social-science researchers, inventive analysts, strategic brand planners and creative storytellers. I scanned the market to see who was offering all those capabilities under one roof and guess what – it didn't exist. Not truly. There were research companies dabbling in strategy, creative agencies with dubious research chops and traditional strategy firms that weren't really interested in execution. So, buying was out—I had to build something to fill this unmet market need.
At this time, I was just finishing my book Marketing for Tomorrow, Not Today: How to Thrive in the Insight Economy™. The premise of the book is that the Insight Economy is powered by a deep understanding of customers as people and a way to unearth the deep enduring truths that inspire sustainable growth ideas for business. Companies that want to win in this new environment will have to get really good at acquiring and managing data across multiple different silos and use that data strategically to drive profitable growth. So, I knew that if I wanted to help clients solve their toughest problems, data had to the foundation. That's why I bought a majority stake and control in one of the top independent research and insights companies in North America, Leo J. Shapiro & Associates. Shapiro+Raj was born. Shapiro, to recognize Leo's brilliance at creating one of the first social-sciences based research companies, with Raj added to communicate future-oriented brand and business strategy expertise.
As the CEO of a research company, I gained a new perspective quickly. I had a renewed appreciation for the brilliant social scientists and analysts on our team who are masters in the craft of finding insights. However, we needed to go beyond these capabilities to deliver on the vision. Our growth strategy was two-pronged: shedding non-core operations while investing in new capabilities. Over the next two years we made a series of moves. We walked away from some of the legacy Shapiro businesses – C-Suite Recruiting, Legal Research, Qualitative Fieldwork, to name a few. We bought a social listening platform with game-changing natural language processing capabilities to expand the way we collect data. We hired analysts to help us make deeper connections and leaders in behavioral sciences to enhance our ability to connect beliefs with behaviors. Adding strategic brand planners to our ranks allowed us to tie insights to strategy. Why we acquired Wygant, an ideas agency to help translate these insights into ideas. The result is a purpose-built model comprising a unique group of people with distinct capabilities and perspectives that allows us to tackle a problem from multiple angles. It's become invaluable to our clients as we get to answers in a way that's refreshingly new and effective.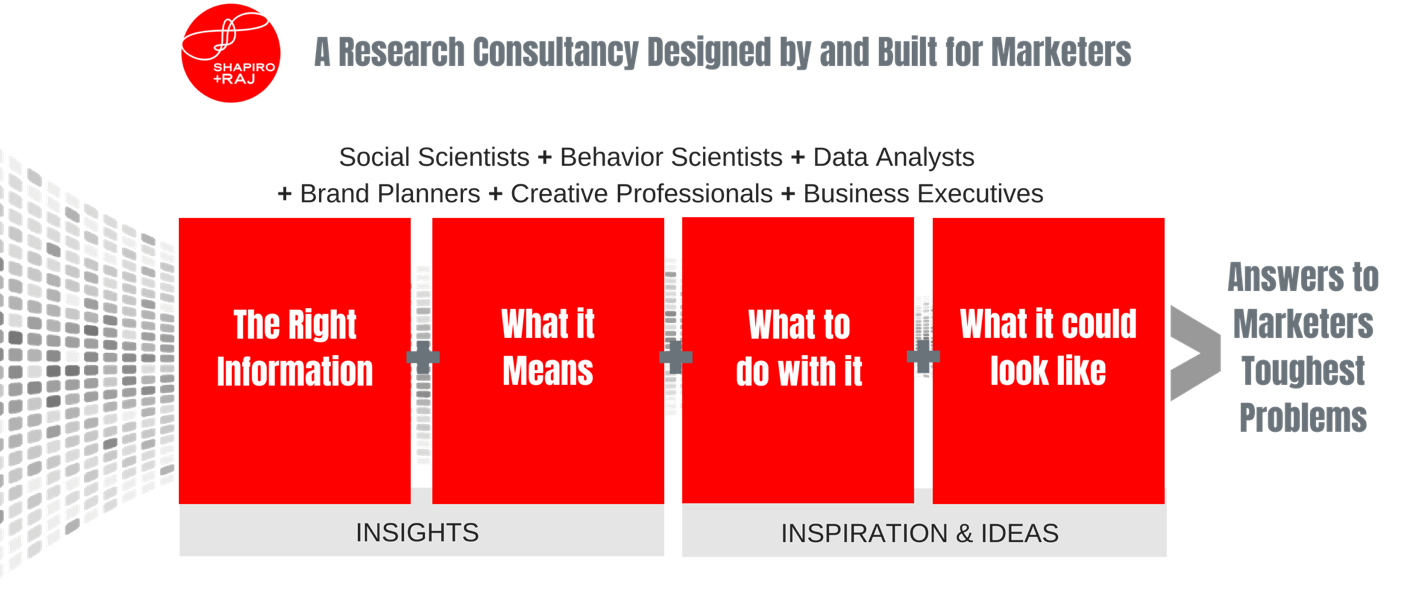 So where are we today? We are a strategic research consultancy designed by and built for marketers to solve their toughest problems. We have all the pieces in place to deliver value to clients that they can't get from any other research company.
Not only do we deliver insights, but we bring these insights to life with validated ideas. Whether it's a new product, new positioning or new customer cohort, we show what's possible and demonstrate a clear pathway to execution. One that can identify and catalyze new ways to grow in this continually reshaping environment.
I hope that by documenting some of our journey, I've clarified the vision. Of course, we are just getting started. Shapiro+Raj will continue to evolve. It's in our DNA. We will be relentless in our quest to continually find better, faster and more innovative ways to solve our clients' problems.
The toughest, thorniest, and most challenging. Bring them on!