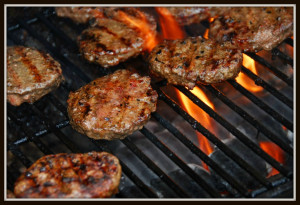 Ah, Memorial Day Weekend… for many of us it signals the start of summer. For some of us, it's the first three-day weekend since the holidays and a much needed break. For all of us, it's a time to remember and be thankful for our brave men and women who have served and are serving in the U.S. military. For me, it's all of this plus the long-awaited kickoff to grilling season – one of my very favorite hobbies. In the winter, I also do a fair share of cooking at home, but not much is more satisfying than lighting up the grill, throwing some burgers on it and serving my family a tasty meal.
As I was preparing for the long weekend, I found myself needing to stock up on a few items. Off I went to the local grocery store and straight to the frozen food aisle and my very favorite burgers, Glenmark. I buy the 1/3 lb. Angus beef burgers for my kids and the jalapeno and monterrey jack burgers for myself. A little plug – Glenmark burgers are locally made in Chicago for over 40 years and are delicious! My wife doesn't eat beef, so I picked up Morningstar Farms® Garden Veggie Patties ™ for her. Then I headed for the dairy aisle and picked up the tried and true, Kraft American Singles.
I then went to our local Ace Hardware to pick up a Weber Grill cleaning kit which does an unbelievable job of keeping my grill in great shape. They didn't have it in stock and I really didn't want to buy something else – the Weber Grill kit works! So I went home and did a bit of online research. Turns out the kit was available at Costco and for $8 less – bingo! A quick trip to Costco and I was set for my weekend grilling activities.
As I was preparing the grill and chopping some tomatoes and onions, I got to thinking. For me, grilling out is a Memorial Day Weekend ritual – I can't imagine that weekend without some grill-time. But what I also realized is that I buy exactly the same brands and products each grilling season. The quality and taste of a Glenmark burger is going to make me look like Bobby Flay, every time. I know my wife is going to love the Morningstar Farms veggie burger. I know that Kraft American Singles are going to be easy to separate and my burgers will taste exactly how we like them. I know that grilling can be messy, but the Weber Grill cleaning kit is going to help me clean up easily.
In my last book, Brand Rituals™: How Successful Brands Bond with Customers for Life, I reference the need for brands to innovate in order to continually meet the needs of their best customers and increase brand loyalty over time. The insight I noticed over the weekend is that for seasonal brands, consistency can be as valuable as innovation. Because we don't interact with these brands year-round, we actually look forward to the memory of how they tasted or how they performed during the last season. If those burgers would have changed since last summer, I would have been terribly disappointed and I would certainly look for another brand. Same goes for Morningstar Farms, Kraft and Weber. Good news – I can report that Glenmark burgers and the other products continue to hit the spot. Thanks guys – you make me look good!