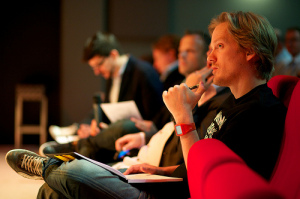 About 18 months ago, I was invited to speak to a group of local entrepreneurs about how I built and sold my last marketing services business. As you can imagine, it is flattering to speak to a group of peers, albeit from different fields, about some of your accomplishments. As the speaking date approached, I found myself coming down with the flu but I knew they were expecting me so I pulled myself together and showed up at the event. The group, as it turns out, was largely comprised of highly successful technology-oriented entrepreneurs. A number of them had built and sold companies many times over. A bunch of really smart engineers who didn't have a very high regard for or understanding of the marketing services space. During the course of the presentation and Q&A, a number of them challenged and pooh-poohed the "marketing business" as not very important in their space. It was a difficult session, made worse under the influence of Nyquil (for my flu).
As engineers, they have always lived in an empirical world, where concepts like customer needs and desires, loyalty and emotional bonding, Brand Rituals™, do not exist as these are considered "soft and mushy" concepts. These guys believe that their companies develop technology that improves on the existing paradigm. They expect people to buy it because of very rational reasons… save money, improve performance, etc. They obviously have done this well as a number of them have sold their companies, made a ton of money and are starting the process all over again. So, no interest in any warm, fuzzy, touchy, feely marketing-oriented stories for them.
Their attitudes are not unique. For many tech companies (especially mid-market B2B), traditional marketing has not been high on their radar. This has to change. With digital at the core of all business processes and consumers' adoption of technology across every category, we have reached an intersection of art and science. Every business now needs to gain a deep understanding of consumer needs in order to create meaningful products and solutions. Technology then can provide a way to deliver these solutions in a way that is relevant yet distinct from the competition or existing options. Building a successful technology company today requires a much deeper understanding of people and how technology affects their beliefs and behaviors. So I was not surprised to see the article titled 7 Brand Marketers Poached by Tech Companies, Who will be next? in Adweek last week.
Seems technology companies have quickly realized the need for behavioral-based consumer understanding and are busy recruiting executives with strategic marketing backgrounds. David Rubin, formerly with Unilever has been snatched up by Pinterest. Eric Toda from Nike is now with Snapchat. The article is full of other names and smart hires. And these executives are what I have been referring to as Decathlete Marketers® – marketers who have competency in a myriad of disciplines across the entire organization and the strategic and creative capabilities to put them together across categories. Microsoft was a leader in this trend, hiring many P&G executives with the ability to understand emotional needs and behaviors of its consumers and customers. At the end of the day, all companies need to understand how brands integrate into people's lives.
I actually ended up staying in touch with several of the members of the networking group who hazed me and am a member of the group today. In fact, I had breakfast with one of the leaders last week and guess what? He is looking to me for consumer insight and marketing advice to help him with one of his new companies.
The worlds of marketing and technology have collided. This has created a stronger demand for marketers. Those that can put the two worlds together, I call them Decathlete Marketers®, will be the future.