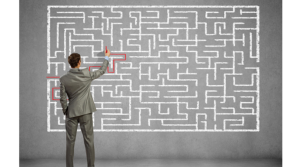 Lately, I have been spending a lot of time working with a number of senior marketers as they try to compete in today's digitally-led, data-deluged business environment. The world is changing quickly and it's impossible for them to operate as they have in the past. For a while now, I have talked about the challenges of operating in this hyper-complex world, both in terms of new skills that are required, and the people needed – ones that I call Decathlete Marketers®. These Decathletes not only have to deal with the external forces but have to work within challenging siloed organizations.
And, their remit is very clear. Their CEO's and Board are asking for distinctive and compelling ideas that will deliver very strong results… measurable business outcomes that they can take to the street.
Finding big new ideas and new ways to differentiate brands has become today's biggest unsolved business problem.
Or said another way, "failure of new ideas" is the single most articulated reason why marketers struggle to win in today's highly complex global business environment.
Each year we launch new products, new campaigns, new services and new ideas but see fewer and fewer of them succeed.
If only marketers could find a way to generate ideas that can help profitability grow their brands, the assumption is that many of the challenges facing their business would disappear.
So the question to answer… how can marketers get to big, profitable ideas and become the heroes in their organizations? How can the tenure-turnover stop?
I believe the answer lies in "insights". I'm not talking about the old school approach of "creating" insights as a way to create ads and manipulate the consumers' minds. Nor am I talking about the current fashion of calling every observation, fact and anecdote delivered by delving into Big Data an insight.
What I am talking about is identifying those deep human truths that are so hard-wired in your customers' minds and hearts that they aren't even consciously aware of them. I call them "enduring human truths" – ones that integrate your customer beliefs with their consistent behaviors.
Identifying the one enduring human truth that your brand can tap, in a way that it can become a part of the customers' narrative, is one of the most effective ways to find ideas that create deep, abiding relationships with your customers – creating a Brand Ritual™.
By unearthing these powerful truths, you have the opportunity to change the conversation from marketers just being (M)ad Men who affect consumer beliefs to becoming Decathlete Marketers™ who also transform customer behavior. And doing it in a way that allows you to smile all the way to the bank.