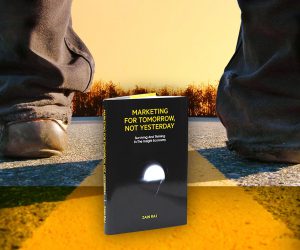 Hello Friends and Colleagues,
It has been a month since the launch of my new book, Marketing For Tomorrow, Not Yesterday: Surviving and Thriving in the Insight Economy™.  I wanted to reach out and thank all of you again for helping spread the word and for buying (and, reading) it.  Your support has helped make this book a success.  I am encouraged by its continued success, in terms of rankings, on lists and the reviews from authoritative sources.  Here are some of the highlights:
Made it to #1 Amazon Best Seller in Direct Marketing and #2 Amazon Hot New Releases.
I believe the performance of the book led to a number of requests for interviews about the book. I have had a lot of fun talking to well-renowned and well-read media interviewers about the Insight Economy. You can check out some of them on the press page on my website.
It has also been garnering reviews from various industry sources.  The latest is a review from Kirkus Reviews – an organization that provides professional, unbiased book reviews for self-publishers from one of the most prestigious magazines in the publishing industry.  They ended their review with this statement "A well-written, cogent, and concise argument that demonstrates ways to cope with the changing marketing landscape." You can read the entire review at https://www.kirkusreviews.com/book-reviews/zain-raj/marketing-for-tomorrow-not-yesterday/
Finally, the book is being ranked on a number of lists on Goodreads Listopia. A destination for book curation.  We have a strong showing at this time as my book is ranked in the top 3 in each of the five relevant categories:
#1 Marketing Today – Goodreads Listopia
#1 Strong Business Book – Goodreads Listopia
#1 Essential Books for Branding and Marketing Professionals – Goodreads Listopia
#2 Best Marketing Books – Goodreads Listopia
#3 Best Sales & Marketing – Goodreads Listopia
If you could spare a couple of minutes, may I impose on you to help keep the momentum going? Please use the links provided below to add your vote to help keep/make Marketing For Tomorrow, Not Yesterday #1.  I would very highly appreciate it.
https://www.goodreads.com/list/show/34559.Marketing_Today
https://www.goodreads.com/list/show/21528.Strong_Business_Books
https://www.goodreads.com/list/show/8826.Best_Sales_Marketing_Books
https://www.goodreads.com/list/show/79726.Essential_Books_for_Branding_Mark…
https://www.goodreads.com/list/show/47438.Best_Marketing_Books
Thanks again for your continued support. If you haven't had a chance to order the book yet, there are plenty available via Amazon. I hear they make fantastic holiday gifts!
Cheers,
Zain