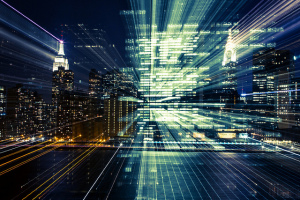 "Growing old is mandatory; growing up is optional." I wish this quote from former Major League Baseball Player, Chili Davis, was true – both personally and in business. Sometimes we all long for simpler times. Days with few responsibilities or cares. But the fact is, growing up isn't optional in this hyper-complex marketing ecosystem. We are all going through some serious growing pains caused by the evolution of the business and economic environment.
Over the past couple of decades, we have seen our economy evolve from being a service-oriented economy to becoming an information-led economy. Companies have used data to improve their businesses, enhance their marketing and improve their customers' experience. Consumers and customers on the other hand have used the data available to them to wrest complete control. The term "Big Data" says it all. This infatuation with data, the more we have the more we want, has created a conundrum for a lot of companies. "I know I need this but I'm struggling with making any sense of it all" is a familiar refrain from most C-suites.
This is why, I submit that we need to evolve from just being part of an information economy, where the focus is on acquiring and managing data across multiple different silos to using this data strategically to drive profitable growth.
We need to open the doors and step into the future-oriented economy: The INSIGHT ECONOMY!
Profound and penetrating insights are going to become the most important asset for business success. According to a recent global study of 1,500 CEOs conducted by IBM, the biggest challenge those CEOs face is the so-called complexity gap. Eight out of 10 expect the business environment to grow in complexity, but fewer than half feel prepared for the change. The research also reveals that CEOs see a lack of customer insight as their biggest deficit in managing complexity. There you have it. Your boss needs insights to do his job well. You better know how to get it for him.
This insight economy, is powered by a deep understanding of your customers and their impact and influence on the business. It is an integration of attitudinal and behavioral data. This holistic view provided by everything we know about them can lead to transformative insights that can drive all actions, inspiration, innovations, ideation and creation at any business. Delivering solutions and programs that will improve the odds of winning sustainably in today's environment.
This insight economy needs a different set of capabilities, infrastructure, processes and people.
Most companies are not yet ready and are struggling through this evolution. As evidenced by a recent article in the Marketing Daily titled, Report Finds CMOs (and CSOs) Need to Accelerate Change, "To thrive amid this consumer revolution, "companies must integrate all of their operations, including sales and marketing, to deliver a truly differentiated and positive" experience, from marketing through after-sale customer service, sums up Woody Driggs, global customer leader for Ernst & Young's EY advisory practice, which based its new report on a survey of 800 sales and marketing leaders and C-suite executives, and 20 in-depth interviews." This integration is not happening fast enough.
And yesterday's Wall Street Journal article, What's All That Data Worth? talks about the pain points for the financial practitioners trying to sort out how to monetize data. It shows that although some companies know how to put a price tag on information (data), they still struggle with the issue of valuing the insights that can be gleaned from the data. This is clearly a sign that the insight economy is at a very early stage of development. What the article doesn't mention is that new skills are required to succeed during this evolution. As I mentioned in my blog last week, a new program for CMOs will be offered by IBM and the Wharton School of Business beginning next year. I'm glad to see this as educating marketers on how to take the terabytes (and more terabytes) of data and turn it into insights is a critical need.
What is also needed is a new definition of insights.
The traditional definition created during the information economy, based on conventional sources of data, is no longer enough. We need a more contemporary definition, one that connects behavior with beliefs, in a way that can first lead to a sustainable relationship between a customer and brand. And, eventually to a Brand Ritual™.
It's time to evolve. It's time to figure out how to thrive in the insight economy. It's time to look at data differently. It's time to collaborate and partner. Evolution is hard. Change is hard. But, the pay-off is great. I plan to continue writing about this changing economy and encourage your involvement and perspectives. Please connect and share.