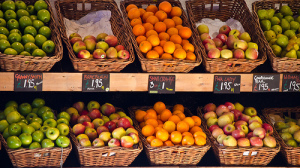 It's been painful to read about the fall of Tesco recently in the press. According to the HBR Blog Network, Tesco's Downfall Is A Warning to Data-Driven Retailers, the company's market value is at an 11-year low and Warren Buffett is admitting he made a mistake…
I have some inside perspective from knowing and working with Terry Hunt, the former Chairman of EHS Brann, when I was the CEO of Euro RSCG Discovery. Terry was closely involved in the development of Tesco Clubcard and co-authored Scoring Points, the international best-selling book on Tesco's pioneering customer loyalty card program. Terry and his team were on the inside of the creation of incredibly innovative marketing programs fueled by data analytics, long before we were all talking about "Big Data". Long before other companies were trying to connect the analytic dots.
Tesco were huge leaders in what I'm calling the Information Economy (mid-80's to 2000's) and were widely considered "best in class" in terms of retail big data and analytics. They were fantastic at using the analytics for strategic, fact-based decisions and to drive marketing innovation and highly targeted loyalty programs. Tesco had a very simple value proposition "every little bit helps", which was praised for saving their best customers time and money. The fact that they did make grocery shopping easier was a big driver for customers in the early days. But over the years of data collection and analysis, they started crafting more targeted offers and complicated marketing programs. Their loyalty program started feeling too complex and customers, even their best customers, got overwhelmed. This level of complexity combined with lower prices offered from their competitors, recently put Tesco at a disadvantage in the marketplace and their share price has taken a tremendous hit.
As I wrote in the last blog post – companies, like Tesco, who were winners in the Information Economy are becoming extremely vulnerable as we enter the Insight Economy. Where the Information Economy was all about massive amounts of data and making sense of it, the Insight Economy is about gleaming profound and penetrating insights to get to big ideas that drive the business. What do people really want? And in today's time-starved, fast-paced world people want simplicity as well as low prices and this is where Tesco missed the mark.
The HBR Blog also brings up the possibility that "despite its depth of data and experience, today's Tesco simply lacks the innovation and insight chops to craft promotions, campaigns and offers that allow it to even preserve share, let alone grow it." And that's exactly what I have been talking about in the Insight Economy. Tactical, data-based analytics can only get you so far. Now is the time for an infusion of the human perspective. The Insight Economy requires the integration of attitudinal and behavioral data plus the "innovation and insight chops".
Tesco and many other companies are stuck in the Information Economy when in fact, the economy has evolved. It's time for Tesco to evolve as well. It's time to embrace the Insight Economy.