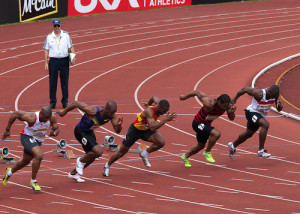 The most recent weekly Research Brief from The Center for Media Research had yet another favorite topic of mine. The brief titled, C-Sweet or C-Suites?, addresses an issue I have been talking about for quite a while – the need for senior business executives to be competent across multiple capabilities so that they can not only navigate, but thrive in today's commoditized, complex and digitally-enabled world.
C-suite executives, although experts at their competency, now need good working knowledge and skills in all the C-suite functions. Today's CEO needs to understand finance, marketing, technology, etc. in addition to his/her core leadership and strategic capabilities. Similarly, the CMO has to now be a very knowledgeable in a wide range of capabilities.
This new kind of CMO is the one I have branded as the Decathlete Marketer™. I consistently write and speak about these Decathlete Marketers™, who are the new breed with a number of skills that they need to survive and succeed in today's business world.
Over the past generation, marketers were able to succeed by being one-or-two sport athletes. There were terrific brand experts and some unbelievably talented response-specialists who achieved great success and acclaim. Just like Usain Bolt.
Not anymore.
Today, marketers need to be capable and competent in ten areas within the business ecosystem – data, digital, mobile, social, experience, engagement, analytics, strategy, equity, and creativity. Like a decathlete (my hero will always be Daley Thompson), you don't have to be a world record holder in all events. What you do need, though, is enough knowledge of each capability to put the pieces together in a way that consistently delivers measurable business results while building value in brands.
The exact same theory applies to CEO's. As the Research Brief explains "CEO's can best achieve business success by harnessing the combined expertise and skills of the company's C-suite. Yet, to move at a fast enough speed to keep up with the accelerating business environment, it is imperative that the entire team is on the same page, meaning that alignment within the C-Suite is critical to a CEO's success." Furthermore, CEOs need to help their CFOs and CMOs cooperate and work together. Connecting marketing initiatives with ROI is increasingly important for sustainable growth. "Alignment within a company's C-suite can be the difference between a successful company and one that is merely getting by, concludes the report."
I couldn't agree more.
All highly successful C-Suite executives must have high-level knowledge and understanding of each other's jobs. Interestingly, in this world, a jack of all trades has better ability to be successful than a master-of-one. Being able to understand and use all available "tools" in a cohesive and complementary way is the path to winning, now and in the future.
Why we all need to be "Decathlete Business Leaders".