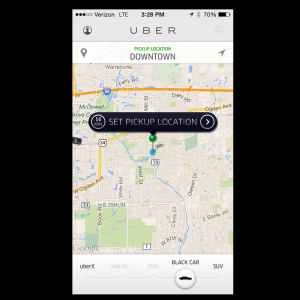 It's March 1st, and we're getting another couple of inches of snow. In Chicago, winter seems to be hanging on longer every year. And, with the snow and freezing temperatures, the commute gets more and more challenging. Getting a cab becomes almost an impossibility. Except… if you are an Uber customer. I use Uber to "hail" my very own cab. I drop a pin on the map to identify my location, a driver responds to my request, the app tells me how long it will be until the driver arrives and I can see exactly where he/she is and watch their progress as they drive to my location. When the ride is over, I don't have to do a thing. Uber automatically charges my credit card on file and includes the tip I have pre-determined. The entire process is incredibly convenient and completely seamless. When cabs are in short supply, I get a black car… either which way, despite the weather and the crowds, I get to my destination on time.
In my book, Brand Rituals™: How Successful Brands Bond with Customers for Life, I talk about a four-stage approach for brands to follow in order to become a ritual for their core customers. I give quite a few examples of brands that have become rituals for me over the years. Given the example detailed above, I'm adding Uber to the list of brands that are becoming an important ritual for me.
Why is this? Before I define the reasons, let me provide a bit of background about the company for folks that might not be as aware. Uber started out with only black car service in San Francisco and has quickly grown by adding in black SUVs, taxis and now independent drivers through a service called Uber X. While not all services are available in all markets, Uber has expanded to over 100 cities globally – and this is just in the last 4 years. They've managed to solve a huge problem for many urbanites while constantly innovating by adding new services. And while they've had their share of legal battles and protests in various cities, they seem to be prevailing and getting lots of attention along the way. I saw some of these on my recent visit to India where taxi drivers were protesting the "Uber takeover" of their business.
Despite all this static, Uber has for me, and for many, nearly reached Brand Ritual™ status. It is a brand that solves a real problem, not just for its customers but also for all the participants in its value chain. The customer gets quick transportation and the driver gets higher utilization. The other reason user's love Uber is that they don't have to carry cash money to pay for their cab ride. For a lot of them, this is a big relief! For a number of women, the Uber cabs and black cars also provide a safer way to commute. All real benefits.
They fulfill a lot of the needs. The only part missing is stage four – creating the bond. While Uber is very close to creating this bond, one of their last challenges is consistency. Most of the time, the actual in vehicle experience is good. Sometimes it's even great but often it could be better. Clearly they are at the mercy of the drivers they employ and sometimes the availability, attitude and quality aren't up to snuff. Given their incredibly rapid growth (valuation of over $41 Billion), it has to be an operational nightmare to keep up with driver background checks and customer rating evaluations, but I hope and recommend that they solve these issues soon.
The app is slick. Growth and expansion are exciting. Huge valuations are sexy. But customer satisfaction and creating a strong bond is the key to the Holy Grail – becoming a Brand Ritual™.