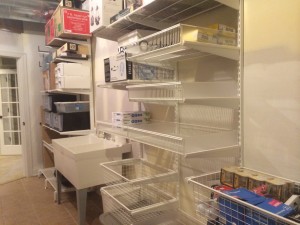 For the past few years, we have heard talk about how companies need to become customer-centric and CEOs need to lead this change by focusing on customer engagement. There have been a number of articles about the need for the CEO to become the CCO (yes, you got it… the Chief Customer Officer) of their company. A number of influential CEO's are attempting to go on this journey, a very important one. However, all of them seem to be leaders of B2B oriented companies. We're seeing very few CEO's of consumer products companies becoming actively involved in engaging with their customers. Why is there so much talk about this and not enough walk?!
Given this state of affairs, you can imagine my surprise when I received a personalized letter last week from Melissa Reiff, President and Chief Operating Officer at The Container Store. Let me back up…
I have had a little bit of time on my hands this summer so I made getting a number of items on my honey-do lists done a priority. I am a pack rat. People who know me, know that I keep everything. The storage room in my basement was reflective of this habit. It was time to get that space organized and neat. I was on a mission. Step one. I went online to find organizational solutions and discovered the Container Store. They had everything I needed to solve my organizational dilemma. Specifically, their elfa shelving system. Once I decided on this, I used their online tools and resources to order a complete of the system and had it shipped to the Oakbrook store for pick-up.
It was a really great experience. I called them 15 minutes before showing up. Parked my car at the curb in front of the store. One associate came out with all the stuff, helped me load it in my car, thanked me for the business and saw me on my way. 15 minutes later, I was on my way back home. Once I got home, the instructions were clear (and relatively simple!) and soon I had the system installed and my storage room organized. Easy to install and looking good! The wife was happy. I was happy. One more project done and the experience filed and forgotten.
Until a week later. I received a letter in the mail from Melissa. It was a "personal" letter that thanked me for my purchase, talked about what a good job I must have done and how much better I must feel now that things were organized. The note hit all my emotional buttons. Melissa also uses the elfa system in her home – I guess now am just as organized as the President of the Container Store! Okay, maybe not. 🙂
Her letter is one of the best written pieces of customer communication I have seen in a while. It is a great example of a leader who is proud of her products (uses them in her life) and because of this understands the real value, emotional satisfaction, it provides to her customers. She was able to help make a meaningful connection with me. I am already looking to buy another system and other products from the Container Store.
One compelling piece of highly personal and relevant communication and I'm already beginning to make the Container Store a part of my life. A Brand Ritual™.
Not that complicated, is it? That's right. You can do it too. Like, Melissa, walk the talk!