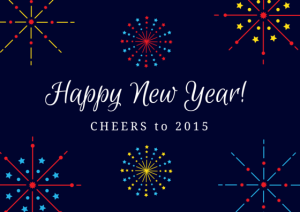 Out with the old. In with the new. Farewell 2014. It has been one helluva year.
From the financial markets hitting their new records to oil prices dropping to levels we never thought they ever would. From political maneuvering by Russia to hacking attacks by North Korea. From businesses like McDonalds that are quickly evolving their model to be successful in the new Insight Economy to others like Sears that continue to repeat their errors. The macro environment continues its velocity of craziness… one that'll never end.
On a personal front, it has been a tough year on one hand and a terrific one on the other. Had to take an enforced sabbatical from my business for a big part of the year. Lost both my parents within a four-month span. Hurt my back and neck so couldn't play golf this entire season. On the flip side, found a new passion for cooking. Rediscovered my old passion for music. Spent more time with my family than I ever had. Didn't travel on business for a whole year (first time in 30 years after spending about 250+ days on the road each year). Wrote two books and now in the middle of my third. Spent time reflecting and daydreaming. I have learned a lot. I have grown a lot.
As Dickens said… it has been the worst of times and the best of times. That's life, isn't it?
I am glad to see this year leave. I am excited to welcome the next. 2015, in me you have an enthusiastic friend. Come, let's have some fun together. Let's make our time together worth something special for all that are a part of it. Let's experience it with the following resolutions that are key to make whatever we experience, easier to handle.
Zain's 10 Resolutions for 2015:
Believe in yourself.
Make commitments carefully.
Do what you say.
Respond calmly and thoughtfully.
Smile often.
Keep it Simple.
Communicate. Communicate. Communicate.
Do the right thing.
Give all you do 150%.
Never give up.
These may seem like stuff we learned in kindergarten but as I experienced during some tough times this year, writing them down and living these provided me with an anchor on how to deal with adversity but also how to deal with success.
For me these 10 are evolving from being just resolutions to becoming rules to live by. Simple yes. But, very effective. Use them if you think they can help. Ignore them if they won't. But, enjoy the last day of 2014 and I wish you a very happy, healthy and prosperous new year.
Cheers!