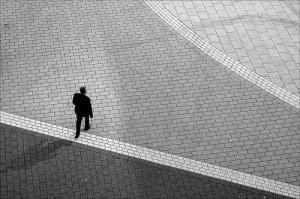 Adage featured a story yesterday based on research done by Brian Solis of the Altimeter Group titled "Most Companies Expect CMO to Lead Digital Transformation." According to this article, "Eighty-eight percent of companies said they are going through a formal digital transformation effort this year." 54% of companies surveyed said the mandate to lead the digital transformation is driven by their CMO. CEO's champion digital transformation 42% of the time, while CIOs came in at a very distant 29%.
Although this is a positive validation of the emerging importance of CMO's within companies (we're all tired of CMO-bashing that's occurred over the past decade), it incited a fundamental question.
Why does it feel like marketing is always at the center of all these digital and data discussions? Why is no one questioning the lack of digital leadership from technology leadership? Is it because the IT organization doesn't understand the need or is it because they're still dealing with legacy approaches, processes and issues? Or, is it still the same Venus and Mars disconnect?
According a recent article by Perry Simpson in DM News, "Forty percent of CMOs believe their company's IT team doesn't understand the urgency of integrating new data into campaigns; 43% of CMOs claim that their company's tech development process is too slow for digital marketing's transient nature. Similarly, 25% of CIOs feel that CMOs lack the vision to anticipate digital trends. And according to 43% of IT executives, marketing's requirements and priorities change too often."
Despite showing signs of improvement, this data shows that the CIO/CMO partnership has a way to go before it bonds. So what needs to happen? Who needs to own digital transformation of the company?
You got it. It needs to be the CEO!
I assert that 100% of CEOs should be the champions of digital transformation of their companies. They need to ensure that it is the number one priority. They should demand complete collaboration between their CMOs and CIOs so that their customers can have a seamless experience across the entire organization. Because, what most people forget is that becoming digital is just a tactic… the strategic outcome every company needs to ensure is that their customers are served in a seamless, responsive and authentic way. It is not a marketing issue or an account management issue or a technology issues. It is a corporate issue. That's why the buck stops with the CEO.
In the late-80's, the CEO had to become the Chief Customer Officer, in this decade, the CEO has to become the Chief Experience Officer.