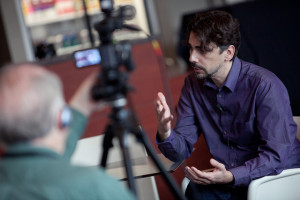 About ten years ago, when you needed specific advice or counsel, it was easy to find an expert in that field. You looked for a published author, and who was quoted and referenced by peers and other experts. A significant number of them were academicians and operators who leveraged their experience and tenure. And, there were few of them. We all knew of Peter Drucker, Phil Kotler, Ram Charan, and Alvin Toeffler, to name a few. How things have changed.
Today, if you need to find an expert, you have your work cut out for you. Why, you might ask? Because there are so many of them. Especially in this increasingly complex ecosystem. There is no dearth of experts, with new buzz words and methods, all claiming to help marketers make sense out of all the information that's available. I did some research on Google last Friday (May 22) to dimensionalize this and found some very interesting data. There are 224 million listings for Big Data experts. This number has increased from 143 million (57% increase) in July 2014. There are almost 58 million listings for Analytics experts, 13 million for Consumer Insights and 26 million for digital marketing. If you just look for Insights expertise in general, you will have to scroll through 181 million listings.
Proclaiming expertise in today's world is a lot easier than it used to be. In the past, you had to work really hard, publish content that passed muster of your peers, and then was approved by publishing companies who rigorously curated content. You had to do this consistently over time and have evidence that your theories were successful before you were deemed an expert. Not so today. Now, anyone with an opinion and time can become followed, linked and favorited into expert status.
This makes it hard for marketers to find good and reliable counsel at a time when they're drowning in the information deluge and the resultant complexity it has created. They have no idea how to deal with it. In addition to external resources, they have similar issues within their companies. Who can they depend on to help them make sense of all this? Unlike a few years ago, where there were research and insight experts on their team, now they have to deal with multiple experts across a number of different departments. All of them competing for the same scarce resources.
Their research and insights team still does traditional research and buys syndicated data to understand and track their customers' intents and attitudes. Using qualitative and quantitative research, they are considered the experts on the brands' consumers and their needs. But, they now have to complement their work with two other groups detailed below.
The database marketing and analytic group is able to provide a lot of transactional, product and channel information. This group has become increasingly influential as Big Data and Analytics have become the fashionable buzz words (as evidenced by the large number of experts in these areas listed above). They are able to provide very specific and tangible data about a number of key areas of the business. However, practitioners even in these areas continue to suffer from the unmet expectation disease. They have access to a tremendous amount of transactional and behavioral data. Very few of them however are able to harness this data in a way that can provide transformative insights or knowledge into their business. Further exacerbating this issue is the fact that in over half the companies (I've worked with), this group doesn't report into marketing thereby putting them into a competitive posture against the marketing colleagues for influence and resources.
In some companies, the digital and social marketing groups have taken precedence over the other two by delivering "real-time insights" based on what consumers do and what they say on digital platforms. With this always-on data available to them, they have become the golden-haired children in most companies. Unfortunately, a large number of these folk are still in the CTO/CIO organizations. So, guess what, we see daily turf battles between them and their colleagues in marketing and data groups.
The future needs to be about combining these resources and enabling collaboration across the entire business. Companies that are winning in the Insight Economy™ are ones that are combining research + data analytics + social listening to understand how they can solve their customers' do/say dissonance and create an environment for unearthing powerful and compelling insights that have the ability to inspire brilliant ideas that will grow their and businesses.
As we all know. If the business wins, everyone wins.