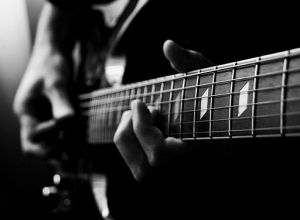 A little known fact: During my younger days, I was a very active musician and actor. Playing in a band and acting helped pay my way through college. I continued with my music while beginning my career in the advertising industry in India. On moving to the US in 1984, and basically, restarting my advertising career here, I had less time for my artistic interests. Maslow's hierarchy of needs, firmly put me into the 'go get your food, shelter and clothing' first mindset. Although I kept a couple of my guitars, I haven't had much time to spend with them until recently. This summer, I've been away from golf due to a bad back. A dark cloud with a silver lining… I've jumped back into music and found my passion for it again. It's been fantastic!
So, what does my rediscovered love for music have anything to do with Jeffrey? Let me get to it.
Last weekend, I realized that I needed a new guitar tuner. So I went to the local music store (Naperville Music) and picked one up. A strange thing happened on the way home… I started to feel guilty. I felt like I was cheating on Jeff Bezos and it didn't feel good. You see, I get almost everything I need from Amazon.
Amazon Prime has given me plenty of reasons for my loyalty:
Prime delivers in 2 days or less
Free Shipping. Free returns.
Kindle lets me access my books on any platform and any device
Kindle Unlimited lets me read as many books I want (I am a voracious reader)
Prime Music – I barely purchase anything on iTunes any more
Prime Instant Video – I can get the latest videos on any device (making Netflix vulnerable in my home)
Prime Pantry – is making my grocery and household shopping chore less burdensome
I order everything from toilet paper to Starbucks coffee to laundry detergent and have it delivered to my door. I even ordered the wrong book once and they told me to keep it. And when Amazon Fresh launches in the Chicagoland area, I will be one of their best customers. What I love about Amazon Prime is that they make it incredibly easy and convenient for their customers, something we all need in this time-starved society that we live in.
And now they've introduced the Amazon 1Button App. A browser web app that is quick and easy to install. This app enhances the online shopping experience by providing information on upcoming deals, comparing prices, and adding items to a member's Wish List from any website. This is putting the power in the hands of the consumer. They're giving me their tool and letting me make comparisons and my own purchase decisions. They understand the concept of building loyalty. If you want loyalty from your customer be loyal to them, first.
Amazon Prime is one of the most brilliant loyalty programs ever created.
As I said in my book, Brand Rituals™: How Successful Brands Bond with Customers for Life:
"I am a fan of loyalty programs, but only if these programs are developed based on a broader business context to help deliver meaningful innovations that add value to a customer. These innovations should make them believe that your brand understands them and has the ability to fulfill their needs in a manner that none of your competitors can."
Amazon Prime understands my needs and shares my values. They know I want convenience, flexibility and ease of use. They have made it very easy for me to access my favorite music and video content across multiple devices and platforms (including competing ones). I get my orders quickly and I can return stuff easily. I don't have to get in my car and go places to get things. I can use the little time I save to spend time with my music.
No wonder I feel guilty when I buy stuff from any other place. Amazon Prime has helped Amazon build a bond with me. And, Jeff Bezos has made Amazon my Brand Ritual™.