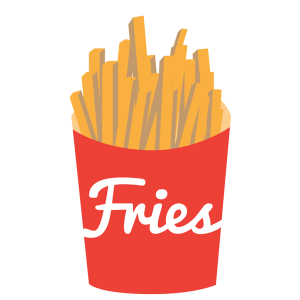 My office space at Shapiro+Raj is in the River North area of Chicago. A neighborhood once notorious for its prostitutes and run-down warehouses, is now home to trendy apartment buildings and restaurants and one of the hottest office markets in the U.S. My neighbors are the Chicago offices of Yelp, Groupon, Salesforce and Chicago's hub for entrepreneurial startups, 1871.
My other dear neighbor is the Rock N Roll McDonald's, located kitty-corner across the street. It's one of McDonald's flagship locations and contains a display of rock and roll memorabilia focusing mainly on Elvis Presley but also includes a set of The Beatles statues reminiscent of their Abbey Road album cover. For those of you who know me, you know I am huge Beatles fan so that makes it extra fun to visit.
Brands like McDonald's grew up and thrived in the Attention Economy of the 1960's through the mid-80's. In this era, the menu was simple and the message (delivered mostly through TV) was simple – "Food, Friends and Fun". As they evolved in the Information Economy – mid-80's through early 2010's – McDonald's complicated their business quite a bit. By 2013 they had 121 permanent items on the menu. Their lack of clarity with regards to their menu started affecting their operations, which affected their financials.
And it wasn't just McDonald's. So many brands lost focus in the Information Economy. More data should not mean more complexity. Because we live in an era of time-starvation, less is truly more. People are not looking for more options, they are looking for uncomplicated solutions. I walk in more mornings than I care to admit, and order a #2 with orange juice. And they always get it to me in less than a minute. This example of the McDonald's menu works, but the current mix of too many menu items and choices often does not.
As we are now entering the Insight Economy™ (powered by a deep understanding of your customers and their impact and influence on the business), McDonald's is starting to make the right changes to thrive. This week there were two big announcements. The first is that they are starting to reduce the number of items in their menu – a huge step in the right direction! According to Crain's Chicago Business, "In an effort to speed up its kitchens and simplify customers' choices, McDonald's Corp. got rid of the Deluxe Quarter Pounder burger and six chicken sandwiches in the U.S. in the first quarter. The chain, which has talked for years about paring slow-selling items, also nixed honey mustard and chipotle barbecue snack wraps." According to the same article, they are testing more items to eliminate from the menu.
The second announcement is that McDonald's testing a program to let customers customize their burgers. Again, according to Crain's, "Customers will be able to customize their burger or chicken sandwich with their choice of bun and topping combinations, including bacon clubhouse, pico guacamole, hot jalapeno and deluxe,". They are following the lead of successful brands like Chipotle and Five Guys, who are thriving due to their simple, yet customizable menu options.
While McDonald's thrived in the Attention Economy, this news is a strong indicator that they are starting to understand how to survive in the Insight Economy™. They are looking more closely at their customer's minds and hearts and are giving them what they want – simplicity and options. McDonald's new CEO, Steve Easterbook, clearly comprehends the current environment and it will be interesting to learn the details of his turnaround plan, to be announced next week. Stay tuned. The "Golden Arches" are making a comeback!